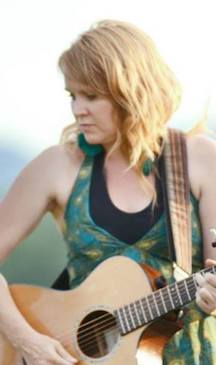 Welcome! I am so glad to have you on this journey with me.


A little about me: I grew up in a mountain town in Colorado, surrounded by beauty. When I think of what gave me solace in that time, there are three things that come to mind: the rickety old upright piano in our living room that I would play for hours at a time, my peach gingham journal, and the big wheel I would ride around my deck with my brother Will. 
Those things still bring me joy. . .  teaching and playing music that I hope declares beauty to my community and to other communities, the words I write that I pray brings meaning into people's lives, and the friends and family around the world that make my life meaningful. 
After many years of writing songs behind closed doors, I began to tour in in 2002. I played all over the world for 13 years, everywhere from castles in Germany to poor villages in India.
Through an amazing turn of circumstances (ask me about the story someday. It is too long to write here but changed my life…) I changed my career to teaching music lessons. This was an absolutely perfect fit for me. I can't believe I have the privilege of bringing the magic of music into people's lives, young and old; a catalyst for them to understand the treasures that are inside of them.
I also love to write and am a published author. My first book, Getting Naked Later: Making Sense of the Unexpected Single Life was published by Harvest House in 2015. My new book is on the topic of thought life and is called Healing the Prodigal Mind: Change Your Story, One Thought at a Time. 
I pray that my motivation is to love whoever is in front of me, whether that be a student I am teaching their first note to, someone listening to the music I write, or someone reading my words.